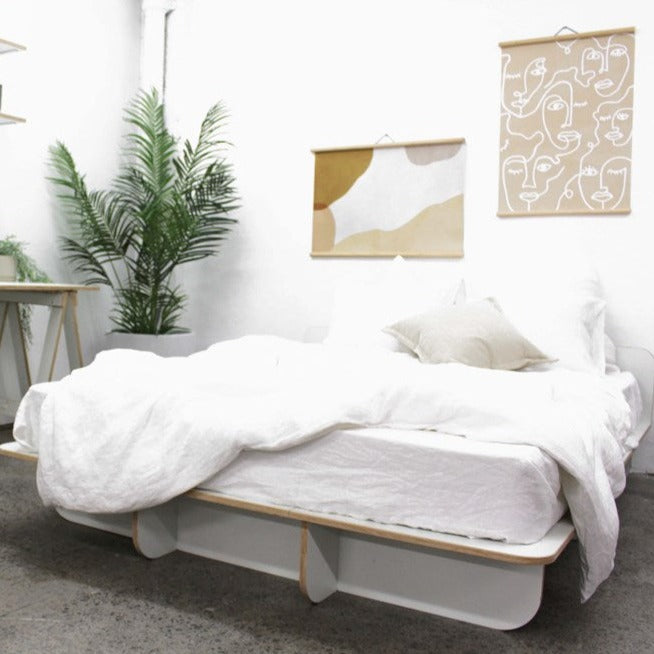 Mood Flat Timber Bed Base - SupaWhite Plywood
This Flat Timber Bed Base will add a subtle hint of structure to your space, and can be completely flattened down for ease of movement & storage!
Material:
SupaWhite Plywood. A low grade White HPL on Carcass grade 18mm Plywood**
Sizes/Dimensions:
Queen: 2175mm Long x 1665mm Wide x 570mm High. Suits a Queen Mattress (2030mm x 1530mm)
King: 2175mm Long x 1750mm Wide x 570mm High. Suits a King Mattress (2030mm x 1650mm)
Super King: 2175mm Long x 1950mm Wide x 570mm High. Suits a Super King Mattress (2030mm x 1830mm)
Please note we are in the process of updating our instructional video to suit the updates we have made to our flat bed design. For the time being, please refer to the above specifications which show picture instructions on the final page. For any queries, our team is always available to help.
Video: Mood Timber Flat Bed Set Up
**Made using cost effective 18mm Carcass SupaWhite Plywood*. A cheap and quick alternative to our high quality grade plywood. Please note this material is NOT our WHITE HPL PLYWOOD. SupaWhite Plywood is carcass grade material and a cost effective option for tables, beds and other furniture. Please note the edges of the plywood come un-finished (not oiled) from our factory and the white laminate is very fragile and only fit for structural purposes.